You Mei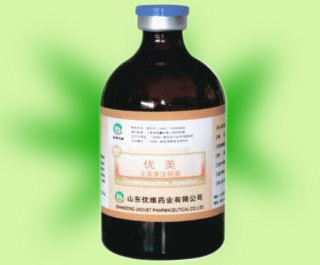 You Mei
Veterinary
Injection grade oxytetracycline injection
Approval Number: veterinary medicine (2009) 152 543 044
Standard: "Veterinary quality standards," 2003 edition
Production license: (2009) Veterinary Drug Manufacturing Certificate No. 15254 word
Certificate Number: (2009) 223 veterinary drug GMP certification of the word
The main components of oxytetracycline injection grade, immune enhancement factor
[Features] 1, the high concentration: just a needle, there is no continuous stress caused by multiple injections, reduce labor intensity, saving drugs.
2, quick, long-lasting: after injection only to quickly reach peak plasma, better maintained 150 hours of effective blood concentration
Degrees.
3, ultra-broad spectrum: the vast majority of bacterial diseases have a good preventive and therapeutic effects.
4, deep spectrum: a good affinity organizations, higher concentrations in certain target organs, the prevention and treatment better.
5, the unique formula: contains special ingredients, minimal pain during injection.
Indications for the treatment of susceptible Gram-positive and Gram-negative bacteria, Rickettsia, Mycoplasma caused by infectious diseases, such as Pasteurella disease, E. coli disease, brucellosis, anthrax, salmonellosis and so on. Lung disease, swine atrophic rhinitis, swine mycoplasma pneumonia, Piglet white diarrhea, pig edema disease, suis. Prevention of postpartum stress and sow mastitis, metritis, agalactia postpartum occurred; cattle, sheep, bacterial pneumonia, enteritis, mastitis, metritis, laminitis, acute conjunctivitis and other bacterial infections.
Dosage deep intramuscular injection: one volume per 10kg body weight, 1ml.
[Withdrawal period] cattle, sheep, pigs on the 28th, milk discard period on the 7th
[Specification] 100ml: injection grade oxytetracycline 20g (2000 million units).
【Packing】 100ml / bottle × 40 bottles / box
[Storage] Sealed, dark, stored in a cool dry place.