Run Xue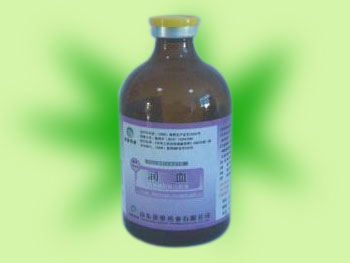 Iron dextran injection
Instructions veterinary
[DRUG NAME] Generic name of iron dextran injection
Pinyin Youxuantanggan Tie Zhusheye
English name Iron Dextran Injection
The main components of iron dextran.
【Properties】 dark brown colloidal solution.
Pharmacological effects after intramuscular injection of iron dextran is mainly absorbed slowly through the lymphatic system. After injection about 60% of the iron is absorbed within 3 days, 1-3 weeks after the absorption of 90%, the remainder of the drug may be slowly absorbed in a few months. Liver, spleen and bone marrow cells can be gradually removed reticuloendothelial absorption of drugs from plasma. Dissociation was immediately iron dextran and protein molecules formed from hemosiderin, ferritin or transfer protein or transferrin. And dextran were metabolism or excretion.
[Indications for severe iron deficiency anemia or inappropriate oral iron deficiency anemia. Clinical mainly for iron deficiency anemia in piglets.
Dosage intramuscular injection: one volume, piglets 100-200mg.
Adverse reactions occasional pig iron injection adverse reactions, clinical manifestations of muscle weakness, staggering, severe cases can cause death.
[Note] (1) intramuscular injection can cause local pain, should be deep intramuscular injection. Over 4-week-old pigs injectable organic iron, the arm muscles can cause coloration. (2) the need to freeze, long home to precipitation occurs.
[] 0 day withdrawal period.
[Specification] 100ml: 10g (Fe).
【Packing】 100ml bottle × 40 bottles / box.
[No.] veterinary drug approval letter (2010) 152 543 061
[Storage] dark, dry place sealed.
[Period] years.
[Manufacturers] Shandong Pharmaceutical has excellent dimensional