Unovet Duo Xi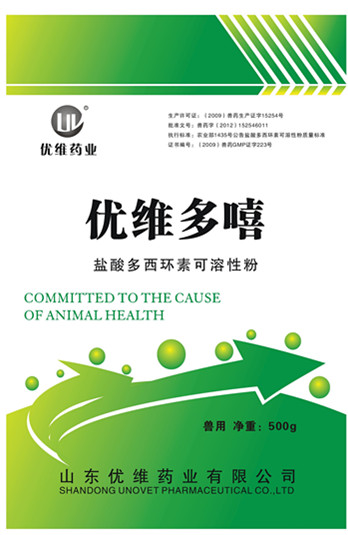 Unovet Duo Xi
Production license: (2009) Veterinary Drug Manufacturing Certificate No. 15254 word
Approval Number: Veterinary Word (2012) 152 546 011
Standard: Ministry of Agriculture Bulletin No. 1435 doxycycline hydrochloride soluble powder quality standards
Certificate Number: (2009) 223 veterinary drug GMP certification of the word
¡¾Product Name¡¿ excellent Victoria hee
[Generic name] doxycycline hydrochloride soluble powder
The main components of doxycycline hydrochloride
Pinyin Yansuanduoxihuansu Kerongxingfen
[English name] Doxycycline Hyclate Soluble Powder
¡¾Properties¡¿ yellow or yellow crystalline powder.
Indications targeted by swine enzootic pneumonia, pleuropneumonia, streptococcal disease, pasteurellosis, Haemophilus parasuis disease, caused by temperature eperythrozoonosis increased, dyspnea, coughing, wheezing, Apex cyanosis, skin erythema. Its effect is stronger than the effect of tetracycline, oxytetracycline. Against bacteria resistant to these drugs has remained sensitive to the chemicals. And a pro-growth, health, enhancing the role of productive capacity. Can also be caused by the stress response for respiratory disease after vaccination.
Dosage
A mixed drink: 500g This product is added to water 1000kg, once every 3 to 5 days.
2, mixed feeding: Pig This product 500g spices 500kg, once every 3 to 5 days; poultry spices 500g This product 500kg, once every 3 to 5 days; the treatment dosage is doubled.
Precautions to avoid high calcium content of the feed simultaneously.
[Specification] 500g: 50g doxycycline hydrochloride
¡¾Packing¡¿ plastic bag, 500g / bag
[Storage] stored airtight, shading, dry place.