Excellent Willingen can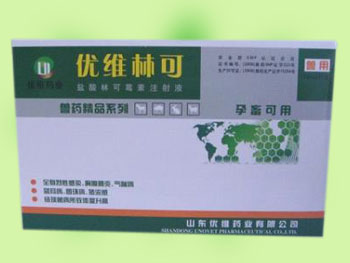 Lincomycin Hydrochloride Injection
Instructions veterinary
[DRUG NAME] Generic name: Lincomycin Hydrochloride Injection
Pinyin: Yansuan Linkemeisu Zhusheye
English name: Lincomycin Hydrochloride Injection
The main components of lincomycin hydrochloride
[Character] Colorless clear liquid.
Pharmacological effects of this product is mainly anti-Gram-positive bacteria, the role of mycoplasma and erythromycin. Staphylococcus aureus, hemolytic streptococcus and pneumococcus is stronger; for anaerobic bacteria such as tetanus, Clostridium perfringens, Bacillus inhibition; Treponema swine dysentery and toxoplasma also have a role. Aerobic gram-negative bacteria resistant. This product is antibacterial agents, highly susceptible to the bactericidal effect at high concentrations. Staphylococcus slow onset of drug resistance. Has full cross-resistance with similar clindamycin, erythromycin and between some cross-resistance.
Indications for the treatment of Gram-positive bacteria of animal infections, especially penicillin-resistant and sensitive to the chemicals of bacterial infection. Can also be used to control Treponema swine dysentery, swine enzootic pneumonia caused by Mycoplasma and chronic respiratory disease in poultry.
Dosage intramuscular injection: one volume per 1kg of body weight, pigs 10mg, day 1; dogs, cats 10mg, 2 times a day, 3-5 days.
Adverse reactions (1) The main toxicity of this product is that it can cause horses, rabbits and other herbivorous animals, severe and fatal diarrhea, horses can cause hemorrhagic conjunctivitis, diarrhea and potentially lethal.
(2) This product has neuromuscular blocking effects.
[Note] may appear after the pig gastrointestinal dysfunction medication.
[Withdrawal period] pig on the 2nd.
[Specification] 10ml: 1g.
¡¾Packing¡¿ 10ml / branch × 10 / box × 40 boxes / carton.
[No.] veterinary drug approval letter (2010) 152 542 615
[Storage] sealed.
[Period] years.
[Manufacturers] Pharmaceutical Co., Ltd. Shandong excellent dimensional.